Seeing and Singapore
April 2018


Being seen follows from being here. On clean breeze, sitting on fine linen, in a luxury hotel overlooking the sunlit sway of palm trees and pedestrians who never cross streets against don't walk signs, I find myself searching online: is Singapore a police state?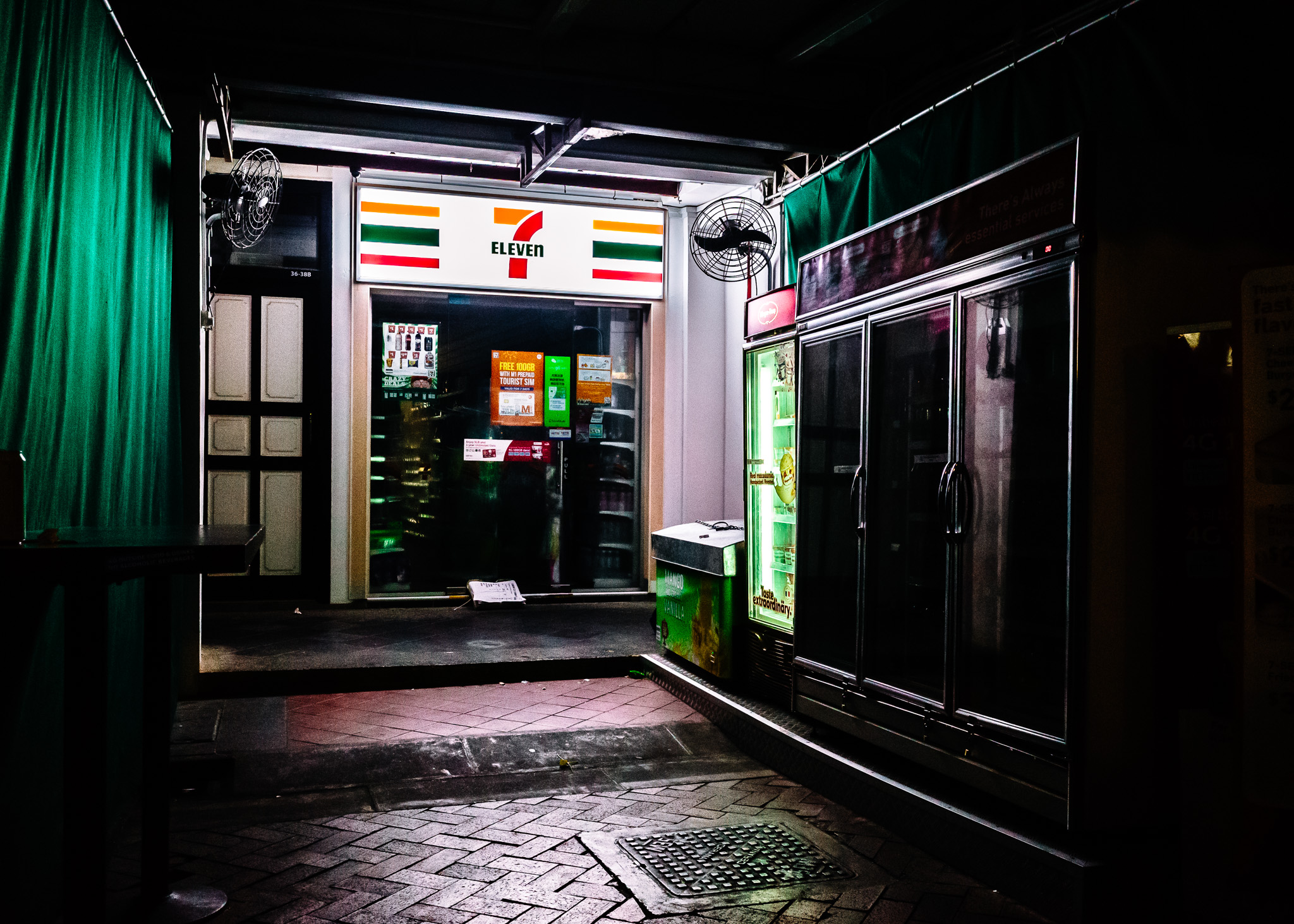 If asking is answer, the kind people, safe sidewalks, unlocked bikes, and perfect weather contradicts with temperature more paradise than prison. A taxi driver, who every morning is at the hotel ready to ferry guests, says there is no homelessness. No graffiti. Chewing gum is outlawed. You can buy mints at any of the 7-11 stores. There is a 7-11 store on every corner. Convenience. No mess. No threat. Go for a walk anywhere, anytime.
Visit the shopping centers. Galleries. Little India. Chinatown. And if you want girls, prostitution is legal. "Four floors of whores," he says. Everyone gladly follows the rules for a better society, he says. What he omits is minimum sentences include lashings, severe fines, and long imprisonments. I never see a prison. For that matter, I never see a cop. Everyone is orthodox, or the law is omniscient.
Once I see one of them, I see more. More frequent than streetlights, they are. On streetlights. Every corner and every hallway. Late nights, I go for an anytime walks. Along the river, I think one blinks at me but no longer trust my senses. I walk to Chinatown where there seem to be fewer but still feel their gaze watching heavy from crevices. Deliberately inconspicuous as if to say "We see you even when you think we do not."
Retreating through a maze of escalators, stairs, and stores, up six stories of mall, to the top of parking garage overshadowed by twenty-five more levels of high-rise, finally their stare eases. This building is written about as the actualization of Le Corbusier's Marseilles Habitation. An ideal of harmonious coexistence of commerce and home. An instant utopia.
A man who is homeless sleeps on the rooftop. Graffiti covers a wall where young guys stand smoking cigarettes, illegally throwing the butts on the ground.
---